AWS Edge Services
AWS Edge Services and how we can help with implementation
Do you run a high-traffic website or a shop system? Do you want fast content delivery, even outside of the EU? Do you want security against Denial of Service attacks?

Then check out the AWS Edge Services below.


What are Edge Services?
Amazon CloudFront



Amazon CloudFront is a fast CDN service (Content Delivery Network) that securely delivers data, videos, applications, and SPIs to customers globally, with low latency, and at high transfer speeds.

CloudFront works seamlessly with any AWS origin, e.g.Amazon S3, Amazon EC2, Elastic Load Balancing.


You can also integrate web servers outside of the AWS Cloud and customize content delivery via CloudFront,


using the secure and programmable edge computing feature AWS Lambda@Edge anpassen.

AWS WAF





AWS WAF is a web application firewall that provides your applications or APIs with web security from common attacks that jeopardize availability or security, or that place excessive loads on resources. The managed rules for WAF handle problems, such as the OWASP Top 10 security tests. These rules are updated regularly when new problems arise. AWS WAF includes a fully equipped API that allows you to automate the development, deployment, and maintenance of security rules.




AWS Shield





AWS Shield is a managed distributed denial of service (DDoS) to protect applications running on AWS. AWS Shield offers you active detection and automatic in-line mitigation to minimize application downtime and latency. AWS Support then requires no activation in order to benefit from DDoS security. There are two states of AWS Shield – Standard and Advanced.
What are typical deployment scenarios?
Your benefits
Security – the services deployed increase security against attacks on your application.
High performance – the content you provide is delivered over edge locations with low latency and at reduced loads due to fewer redundant inquiries.
High availability and protection from outages: no server to manage – low administrative costs.
Low cost – the use of AWS services results in low administrative and operation costs; no servers to manage. No investment costs.
Our offer: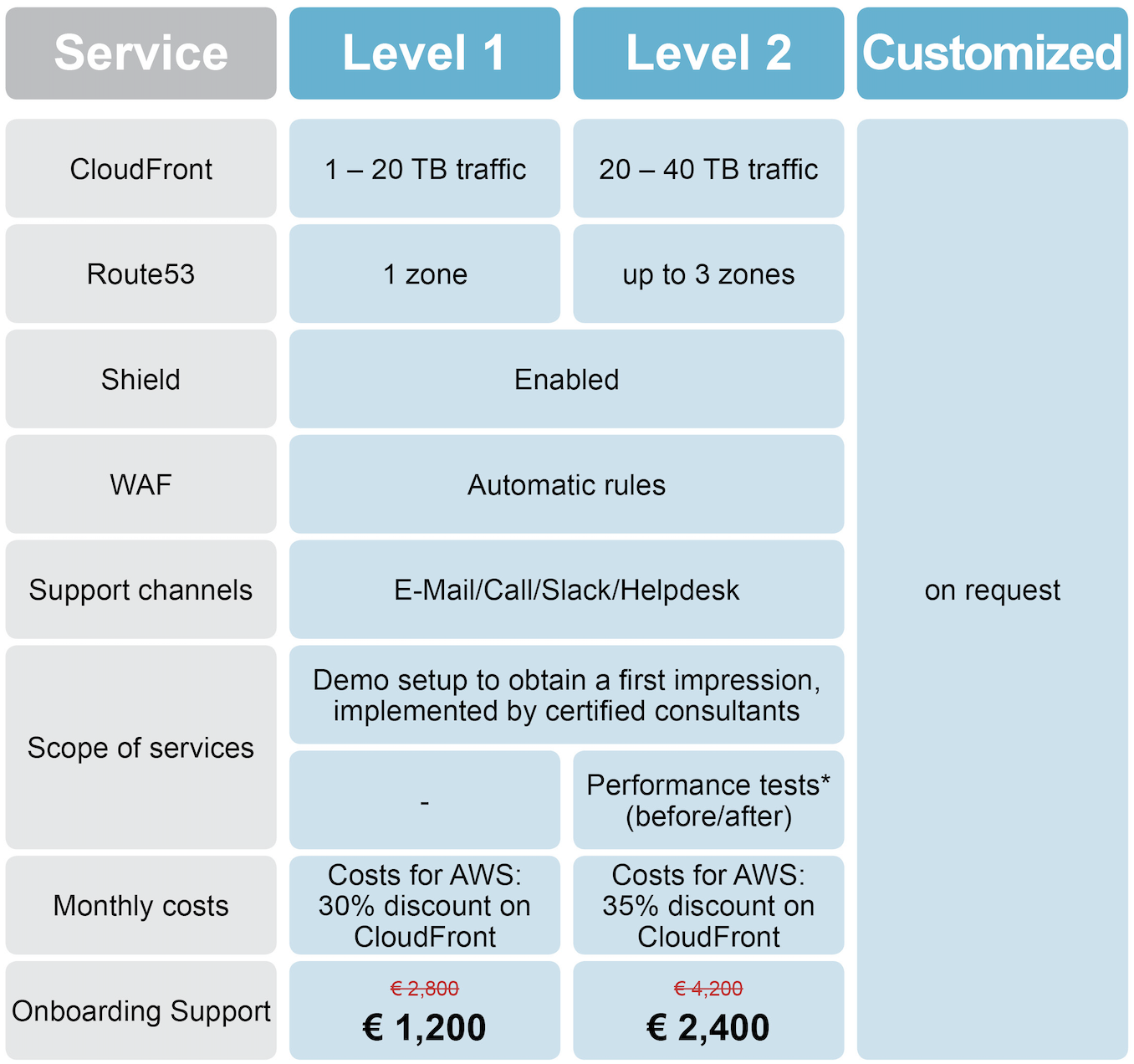 * We provide you with support to conduct performance tests with our partners.
Costs for third-party providers and performance tests are not included in the price.
Why is Centrias the right partner for you?
We provide you with ongoing support, from analyzing your requirements through to the final implementation of your project. Here is a concise overview of your benefits:
Low-cost prices for CloudFront – as an AWS partner, we procure large traffic volumes and pass on the price advantage to you.
Professional onboarding and training of certified AWS consultants consultants who analyze your requirements and develop complete solution proposals. First steps based on our demo setup.
Experience in running websites and applications for global events focusing on performance and security.
Expertise that goes far beyond EDGE services to areas that include security, container/Kubernetes, CI/CD, and automation.